GREEK ALMOND COOKIES
AMYGTHALOTA
These Greek almond cookies - Amygthalota are one of the best sweets that are made for holiday celebrations and are always served at baptisms and weddings, namedays and on the Virgin's day, August 15th - the day to celebrate the Virgin Mary - a name day for those named Maria and Panayiotis.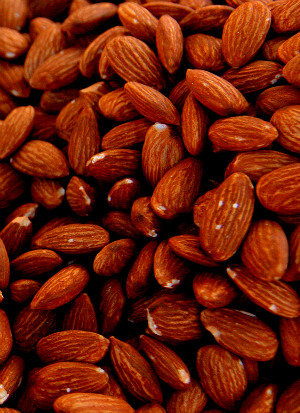 Most Greek women can tell you there is one rule to the almond cookie recipe - simply 2 to 1.
2 parts almonds to 1 part sugar.
Some recipes have semolina, others don't. Also some may not have eggs and are not baked, just left to dry. Always these Greek almond cookies are made with no flour.
It is these almond sweets in particular that are served at baptisms, weddings etc, because they are pure white and sweet, symbolically representing the brides or babies. If you want to get this snow white colour, make sure you peel the skins off the almonds after blanching, before processing.
Try to buy the best quality almonds you can find, it really does make a difference to the taste.

Ingredients
640g almonds
320g caster sugar
2-3 egg whites
2-3 tablespoons semolina
2 teaspoon vanilla essence
little rosewater
320g icing sugar
optional
glace cherries or broken pieces of almonds

Preparation
Grease a large baking tray. Preheat oven to 180 C, 350F, gas 4
Either buy blanched almonds or blanch them yourselves (see below for instructions.)
Remove the skins.
Blitz the almonds in a food processor until they are fine like breadcrumbs.
It is best to do this yourself to get the best flavour from the almonds, but you can use almond meal if you don't have a processor.
Place the almonds and sugar in a bowl and mix together.
(Traditional Greek recipes called for these two ingredients to be mixed into a paste with a mortar and pestle, to unleash the almond oil and extract the most flavour from the almonds.)
In a separate bowl, beat the egg whites together and add to the almonds.
Add the semolina and vanilla and then knead the mixture all together.
Take small pieces at a time and form small shapes and place on the greased baking tray.
You can make shapes such as pears, balls, crescent moon, stars or pears.
Once you have done this with all the mixture, place baking tray in preheated oven for 15-20 minutes or until cooked, though not browned.
Take out of the oven and drizzle very slightly with the rosewater over the tops of the sweets.
Dust the generously with sieved icing sugar whilst still warm.
Leave to cool.
If making pear shapes, you can put a whole clove in the top to represent the stem and add flavour.
How to Blanch Almonds.
If you want to remove the skins from almonds you will need to blanch them.
Place the almonds in a saucepan with cold water.
Bring to the boil.
You won't need to boil for very long.
Drain.
The skins will become loose and you should be able to just pull the skins off the almonds, if not, boil a little longer.
Leave the almonds to dry completely before using them in the recipe, especially if you are processing them.
Why not make these Greek almond cookies for a bridal or baby shower or any other celebration - they are sure to be a great hit with everyone.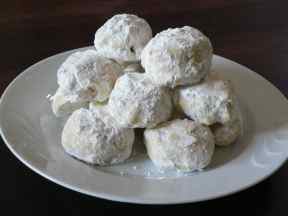 Another delicious Greek cookie recipe using almonds are Kourabiethes - an Almond Sugar Cookie Recipe. It has the most wonderful light, buttery taste and is traditionally made at Christmas in Greece.
Kali Orexi - Bon Appetit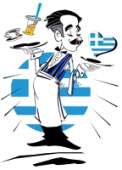 Return from Greek Almond Cookies to Greek Desserts