Fried Fish Recipes
Psaria Tiganita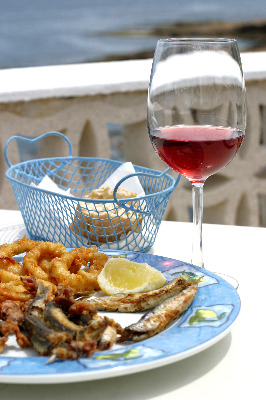 This is one of the simplest ways to prepare fried fish recipes. If you start with a good quality fresh fish, you don't need to smother it in lots of flavourings to get a delicious meal that is enhanced by simply seasoning and lemon juice!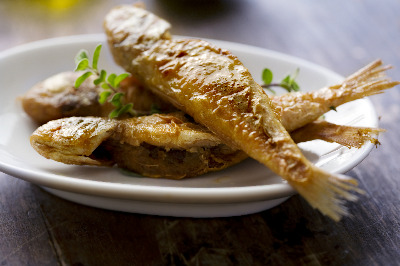 The traditional method of cooking this recipe in Greece is to use either
Red Mullet - Barbounia orMarida - picarel.
Red Mullet is considered one of the finest psari to eat in Greece.
However, Marida is a favourite and very popular in the summer in fish-tavernas - Psarotaverna.
Larger Marida will be gutted and cleaned, salt sprinkled inside, dipped in the seasoned flour mixture as below and fried - either shallow fried or deep fried.
Smaller ones - Marides - are so loved by the Greeks they have a diminutive name for it - Maridakia. They will simply dust these with the flour - pinch the tails of three of them together and fry all three as a trio and serve. Delicious!
See Below for other Variations
Although this recipes suggests whole fish, you can of course use fillets, steaks or cutlets and any type such as cod or snapper can be used.
Ingredients
Fish - as per amount required
lemon juice
salt and pepper
flour
Preparation
To prepare the fish, if it is whole, de-scale, have it gutted and completely cleaned.
Pat dry and sprinkle salt and pepper and lemon juice inside and out.
Prepare a frying pan large enough for them to lay flat in the bottom.
Add enough oil - vegetable oil is best for frying, to a depth for shallow frying and bring to a moderate heat.
Add the fish.
Fry, turning them over so both sides are golden and are cooked through.
Remove from the pan, place on absorbent kitchen paper to remove any excess oil.
Serve with a Salad, potatoes and any Greek dips, as well as lemon wedges or lemon and oil dressing.
Variation
You can dip the fish in flour before frying to give it a lovely crispy coating.
Place a few tablespoons of flour on a plate, season with salt and pepper.
Rinse the fish, roll it in the flour until it is completely covered and then follow steps above for fried psaria.
Serve
Kali Orexi - Bon Appetit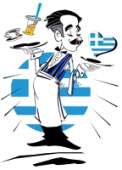 Here are some more fried fish recipes that are very popular!
Every adult and child loves Fish Cakes quick and easy to make!
This is everybody's favorite fried dish - Calamari
A fun way to serve fish - Monkfish Kebabs
If you're looking for something healthy try these Grilled Fish Recipes
Return from Fried Fish Recipes for more Fresh Fish Recipes