Fish Cake Recipe
Kroketes Bakaliarou
This fish cake recipe is a delicious and fun way to serve fish.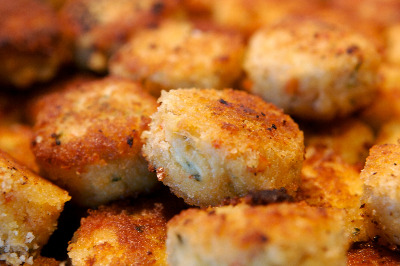 Fish cakes are always a favourite with children, and this fish cake recipe is so quick and easy to make it's ideal for a healthy lunch or mid week dinner when you don't have too much time. You can prepare them earlier in the day and leave in the fridge until ready to cook.
By making them fresh yourself, you know what you're eating - no preservatives or processed foods, and they are so much more tastier this way. Your children and family will love the flavour and it will soon become a favorite dish!
Fish cake recipe most commonly uses cod, but you can replace it with any other white fish you have. The Greeks used to use leftover fish to make up these rissoles. These days we rarely have much fish left over!
Cod fish recipes are very versatile, it's the type of fish that can be used in many recipes. The dishes can always be adapted to other similar white fish as well.
Bakaliarou is Greek for cod. In Greece, they have friganies which is like french bread or french toast. They often use these, crumbled into breadcrumbs in their meals, especially to coat something they are going to fry, such as chicken pane or meatballs. With this recipe, they would indeed use this method. You can choose either to coat them with toasted breadcrumbs to create a crispy crust or fry them as they are. Both methods produce great looking and tasting fish cakes.
Fish cakes in Greece are often served with Skorthalia - Greek Garlic Sauce, and a salad.
Ingredients
500g cod fillets
4 medium potatoes, peeled
1 small onion, grated
1 egg, lightly beaten
2 tbspn milk
2 tbspn fresh parsley, chopped finely
freshly ground salt and pepper
oil for frying
optional
1 egg beaten
1 cup french bread, crumbled into breadcrumbs or toasted breadcrumbs - friganies
Preparation
Boil or steam the fish.
Flake the cod finely, removing all the skin and bones.
Boil the potatoes, drain and mash well, ensuring no lumps remain.
In a bowl, add the flaked fish, mashed potato, grated onion, beaten egg, milk, parsley and season with salt and pepper.
Mix in together well.
Using your hands, take a handful of mixture, roll into a ball, flatten slightly and place on a plate.
Repeat with all the mixture.
Place the plates of fish cakes in the fridge for 30 minutes to set.
Place the oil in a frying pan, heat and fry the fish cakes, turning over once, until golden and crispy on each side.
Serve.
A slightly different variation, one that is very popular in Greece, is to follow the preparation up to step 8, place plate in fridge.

Prior to frying, prepare one bowl with a beaten egg and another plate with crumbled french bread or toasted breadcrumbs - friganies - these are very popular in Greece.
Roll each fish cake in the egg mixture, then roll it in the breadcrumbs and then transfer straight away to the hot oil in the frying pan.
Cook the fish cakes as above.
This method produces a lovely crisp coating. You could also use flour instead of breadcrumbs.
Serve hot with lemon wedges, salad and skordalia.
Kali Orexi - Bon Appetit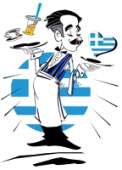 Return from Fish Cake Recipe for more Healthy Fish Recipes