MUSSEL RECIPE
MITHIA PILAFI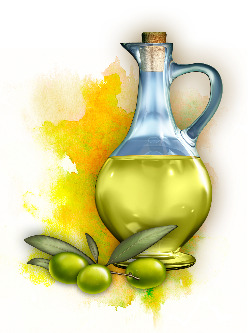 This mussel recipe is a favorite dish in Greece. The Greeks often cook mussel and other seafood in a pilaf, which is a rice based recipe flavored with mussels. They will also make a pilav with other types of fish such as octopus, squid or shrimps.
Be very careful to ensure every mussel is cleaned well. If any are open when you buy them before cooking, discard them. Once cooked, if any have not opened, again discard them. These are not fresh and should not be eaten!
You will often find this recipe at a PsaroTaverna - Fish Taverna.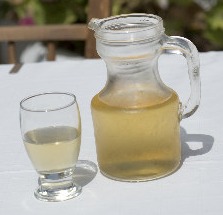 Ingredients
1.2 kg
1 onion finely chopped
2 tbsn olive oil
450 ml / 3/4 pint water
90 ml /3 fl oz olive oil
1 onion finely chopped
2 cloves garlic, crushed
250g / 8 oz long grain rice
100 ml / 3.5 fl oz white wine
300 ml / 1/2 pint mussel stock, strained
1 tablespoon tomato puree diluted in the mussel stock OR
2-3 tomatoes, peeled and chopped tomatoes
salt and black pepper
pinch of ground saffron
Preparation
Clean every mussel by removing any barnacles on the sides and their beards.
Place the mussels in a bowl or sink full of water.
Throw away any mussels that are already open.
Swish around for the grit or sand to come out and sink to the bottom.
Drain the water and repeat this process a few more times until the water comes clean.
In a large saucepan, add 1 chopped onion, olive oil and water.
Bring to the boil and cook for about 5 minutes.
Add all of the mussel in their shell, cover and cook for 4-5 minutes or until the shells have opened.
Remove the mussels using a slotted spoon.
Throw away any that have not opened.
Strain and reserve the liquid stock.

Remove the mussel from their shells and put the meat aside.
Keep a few shells for decoration and discard the rest of them.
Fry the onion and garlic in olive oil in a pan until golden.
Add the mussels and cook for a few minutes to coat in the oil.
Pour the white wine into the pan and wait until it stops sizzling.
Add the chopped tomatoes and fry for a while until the tomatoes have softened to a slight pulp.
If using tomato puree, dilute in the stock and pour into the pan.
Season with salt and pepper and saffron.
Bring to the boil, rinse the rice under running water and then add to the pan.
Leave to simmer until the liquid is absorbed or the rice is cooked.
Remove from the heat, place a clean tea towel over the top of the pan for 5 minutes to absorb excess moisture.
Serve
This recipe is delicious with a salad, a few Greek dips and crusty bread.
Kali Orexi - Bon Appetit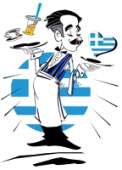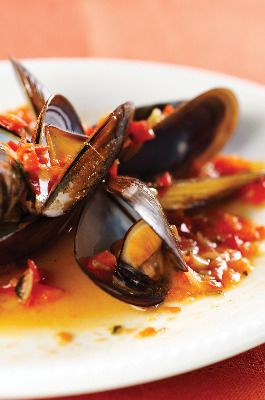 You may enjoy another of our delicious Mussel Recipes cooked in a onion, garlic, white wine and tomato sauce.



Return from Mussel Recipe for more Healthy Fish Recipes