GREEK DONUTS WITH HONEY SYRUP
LOUKOUMADES ME MELI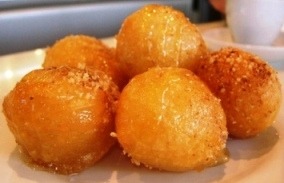 This Greek donuts recipe (or doughnuts) creates delicious little golden puffs, which are drizzled with an aromatic honey syrup and then sprinkled with a dusting of cinnamon.
If you've always wondered how to make donuts, you will find this a very easy homemade donut recipe.
Loukoumades have always been a popular sweet treat in Greece.
In the streets off Omonia Square and Syntagma Square in Athens there used to be several wonderful sweet shops serving little plates of delectable Loukoumades dripping in honey syrup, a welcome respite for the tired shoppers and passers by.
Ingredients
250g plain flour
1/4 teaspoon salt
3 teaspoons dried yeast
250ml warm water
vegetable oil
Syrup
1 teacup sugar
1/2 teacup honey
1/2 teacup water
1 -2 teaspoons cinnamon
Preparation
Sift the flour into a large mixing bowl, add the salt and mix the dried yeast into the flour.
Using lukewarm water (if its too hot it will kill the yeast), slowly add to the flour, mixing in with an electric mixer until all the water has been added and the mixture is smooth and slightly frothy.
Don't take too long doing this.
Cover with a clean tea towel and leave it in a warm place for about one hour or until it has doubled in size and it looks frothy.
When the doughnut batter is about ready, first make the syrup by adding all the ingredients into a small saucepan, bring to the boil and simmer for about 5 minutes or until lightly thickened.
Keep warm to serve hot with the donuts.
To deep fry the donuts you can use a deep-fryer or a deep saucepan.
Fill with oil and heat to very hot but not smoking.
Take a teaspoon, dipping it in water first to prevent the mixture sticking, take a teaspoon of mixture and drop it in the hot oil. Cook about 6 - 8 donut puffs at a time, depending on the size of your fryer.
The loukoumades will puff up and rise to the top of the oil very quickly.
Turn them over and as they turn golden colour, take them out with a slotted spoon and place on some absorbent paper to remove any excess oil.
Repeat with the rest of the dough or as many as is needed.
Serve about 4 or 5 of the hot loukoumades on a small plate, drizzle the honey syrup over them and then sprinkle a light dusting of cinnamon over the top.
Kali Orexi - Bon Appetit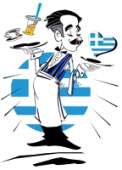 If you want a short cut to making Greek Donuts, you can buy Donut Mix packet by Yiotis on this Greek produce page.
If you're looking for equipment to make donuts, check out ebay. There are many bargains to be found, from donut baking trays to doughnut machines. If you haven't used ebay before, its free to join, and really easy to register, once you've done that, just place a bid and see what a fun way of shopping it is.


Return from Greek Donuts to Greek Desserts