CHICKEN PANE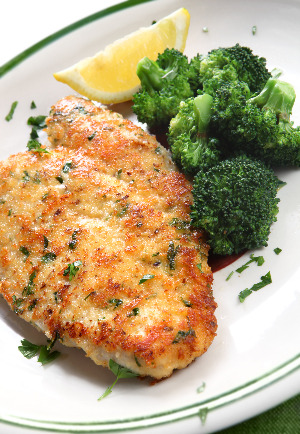 Chicken Pane - pronounced pan-eh. Pane is the terminology given to those meals that before we fry, we dip into a mixture of egg (diluted with a bit of milk and water) and then dip into crushed up french toast (friganies), rusks or breadcrumbs to coat.
There is a variety of meals we can prepare and cook this way, such as artichokes, cauliflower, chicken, beef, pork, etc.
In Greece this method was used to create a crust on chops, steaks etc. This is still used, however the chicken breast recipe with thin slices as in schnitzel has become a very popular way of doing pane, and one which is my favourite, hence my use of it here with chicken. This method, of course can be adapted to any of the above foods.
This method doesn't only give the food a good appearance, but it tastes delicious as well.
Ingredients
chicken breasts
eggs
milk
salt, pepper
breadcrumbs
preferably french toast, crumbled
oil to fry
optional
grated cheese
Preparation
For a successful pane` mixture, you need to beat the eggs with 1 tablespoon per egg of milk or water and salt and pepper.
Beat together.
Prepare a large frying pan with a little oil and turn on the heat.
Take a chicken breast and cut thin slices across the breast.
(If using a different meat, beat it with a meat tenderizer, vegetables just cut into small portions).
Take the chicken slices and with each slice, dip first into the egg mixture and then into the breadcrumb mixture to cover the whole chicken fully.
Place it into the hot frying pan until golden brown, both sides.
It is advisable to place the fried chicken onto absorbent paper, to soak any excess oils.
Serve immediately.
Another way to serve pane, is to dip the chicken in the egg, then roll into grated cheese, dip into the egg again and finally roll into the breadcrumbs and fry the same way.
You can grill or barbecue pane, only instead of dipping into egg, you dip the meat into melted butter and then roll into the french toast crumbs.
Schnitzel is an old Austrian recipe, traditionally using veal. I really don't know where Pane originates from, they are very similar crust recipes, only the type of meats, vegetables used are different. Pane has been used in Greece for a long time and has become a household favourite.
Serve chicken pane with mashed potato and Coleslaw, fries or Potato Salad.
Kali Orexi - Bon Appetit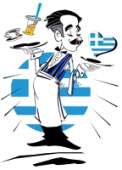 Check out these two pages for ideas to accompany this meal.

Return from Chicken Pane for more Greek Chicken Recipes