SWORDFISH RECIPES
GRILLED SWORDFISH KEBABS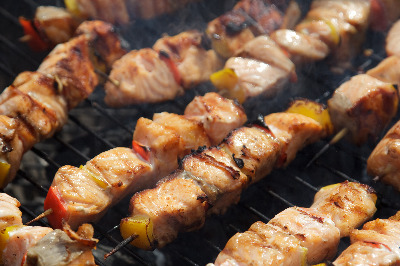 Grilled Swordfish recipes such as kebabs are perfect for a quick, easy fish dinner.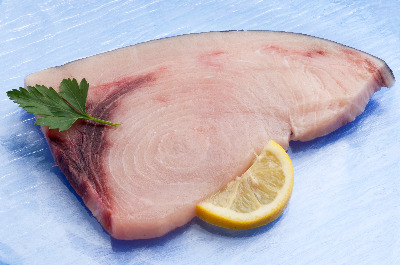 Swordfish is an ideal white fish to use for kebabs, as it is firm and won't crumble easily whilst grilling. Swordfish is a very popular fish in Greece, you can find it at most fish markets.
Oregano, fresh lemon juice and extra virgin olive oil are often used to flavour fish and as a dressing.
Ingredients
2 red onions, quartered
2 red or green peppers (capsicums), quartered and seeded
20 thick cubes of swordfish, 650-750g,
75ml/ 5 tblspn extra virgin olive oil
1 garlic clove, crushed
large pinch of dried oregano
salt and ground black pepper
lemon wedges, to garnish
4 long metal skewers
Preparation
To make the marinade, put the olive oil, garlic, oregano, salt and ground pepper in a small bowl.
Whisk and leave for later.
Arrange the onion quarters into pieces with two or three layers.
Cut the quartered peppers into similar sizes to the onions.
Make the souvlakia by threading five pieces of swordfish on to each metal skewer.
Alternate the cubes with a piece of red onion and red and green pepper to add colour and flavour to the fish.
Repeat with each kebab.
Lay in a dish and brush the marinade over all the sides of the fish and vegetables and leave for about an hour in a cool place for the flavours to infuse.
Prehead an oiled grill or barbecue to hot setting and place the swordfish kebabs on the grill for cooking.
Make sure the heat is not too close to burn them.
Grill for about 10 minutes, turning to cook on all sides until the fish is cooked through and the onions and peppers are cooked.
You can brush the extra marinade over the fish as you are cooking to enhance the flavours.
Serve immediately with the lemon wedges.
Many fishmongers will prepare and cut the fish for your swordfish recipes. If you are cutting it yourself, you will need about 5cm square cubes.
Kali Orexi - Bon Appetit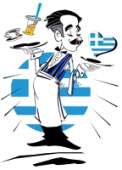 Return from Swordfish Recipes - Kebabs for more Healthy Fish Recipes