GREEK HERBS
When you want to add some flavor to your food to get that Greek taste, try these Greek herbs.
Greek Oregano does indeed taste different to domestic oregano and will add a zing to salads and meat.
Use the all purpose seasoning to steaks, chicken meals and other baked dishes for a unique Greek flavoring.
| | | |
| --- | --- | --- |
| | | |
| Cavender's All Purpose Salt Free Greek Seasoning 7 oz (NO MSG) Carefully blended using 13 spices, an all purpose seasoning mix to use on meats, fish etc for that distinct Greek flavor! | Cavenders All Purpose Greek Seasoning, 8oz Give your meats, fish, chicken and other dishes that Greek flavor with this all in one special blend of herbs and spices. | Anise Seed, Whole (Castella) 14oz With a taste like licorice, this spice is often used in Greek cooking, from sweets and desserts, to Greek Bread, such as Tsoureki and Christopsomo. Ideal for sweet and savory dishes. |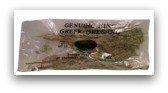 Greek Oregano Bunches, 60g
Grown on the mountain tops of Greece, these oregano bunches have a distinct aroma. Used for flavoring Greek, Mediterranean, or any other cuisine that calls for oregano.
Return from Greek Herbs for more Greek Food