GREEK EASTER COOKIE
KOULOURAKIA PASCHALINA
This Greek Easter cookie recipe is traditionally just made at Easter. The Greeks have many recipes like these that are usually only made at certain times of the year.
In Greece, households will always have some cookies made and stored in a cookie jar, for snacks or to offer visitors and at Easter, this is a simple recipe they use for cookies, to have on hand for whenever they might be needed.
This Greek Easter cookie is great to have for breakfast or anytime with a cup of tea or coffee.
Ingredients
1/2 cup butter
3/4 cup sugar
3 egg yolks
1/4 cup milk
1 1/2 teaspoons vanilla essence
1 teaspoons baking powder
1 pound plain flour
1 egg yolk for coating
Preparation
Cream the butter and sugar with an electric mixer until light and fluffy.
Add the egg yolks, one at a time, beating in well before adding the next.
Add the vanilla to the milk and the baking powder to the flour.
Using a metal spoon, add the milk, a little at a time, alternating with a little flour, mixing in well before adding more.
Once it is all mixed in, use your hands to knead it a little until it is a smooth, easy to handle dough. If necessary, add more flour if it is too moist.
Avoid overworking the dough.
Break off pieces of dough and you can shape the cookies however you like. Some like to create circles.
A popular shape is to roll the dough under your fingers to create a long sausage.
Take the sausage shape dough, fold it in half, and twist. Pinch the end together and place on a greased baking tray, a little apart from each other to allow for rising.
Mix the egg yolk with about 1 teaspoon of water and brush over the tops of all the cookies to give a warm golden colour once baked.
Bake in a hot oven for 20-30 minutes. Leave to cool on a wire rack.
Kali Orexi - Bon Appetit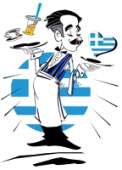 Return from Greek Easter Cookie to Easter in Greece


Return to Greek Desserts