Fig Tart with Filo
Fig tart with filo is a wonderful combination of sweet juicy figs in a creamy batter, encased in a crispy filo pastry.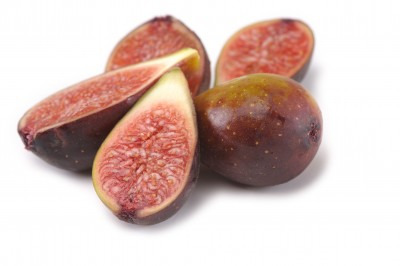 Figs are abundant in Greece over the summer months and are so delicious. They are mentioned as far back as Homer's days.
There really is nothing better than to bite into a succulent fresh fig, for dessert or just to snack on. Greeks will always make use of the seasonal fruits in their desserts, so when there are plenty of figs around, this fig tart recipe is one of the popular recipes they will use.
This fig and filo tart is light and tasty, great served with some vanilla ice cream or a dollop of Greek yogurt.
The Greek word for fig is Sika.

Ingredients
5 sheets filo pastry
25g butter, plus extra for greasing pan
6 fresh figs, washed
75g plain flour
75g caster sugar
4 eggs, whisked
450ml full cream milk
1/2 tsp almond essence
1 tblspn icing sugar


Preparation
Preheat the oven to 190C, 373F, gas 5.
Grease a 25 x 16 cm baking tin with butter.
Melt the butter.
Brush the melted butter over 1 sheet of filo pastry and lay over the base of the baking tin.
Repeat with each sheet, laying them over each other in the tin.
Cut off any excess pasty hanging over the edge of the tin.
Cut the figs into small wedges and arrange the figs, skin down, over the filo pastry.
Sift the flour into a bowl and add the caster sugar.
Add the whisked eggs and a little of the milk and beat until smooth.
Slowly whisk in the rest of the milk and almond essence into the batter.
Pour the mixture over and around the figs.
Bake for 1 hour or until the batter is golden and set.
Remove from the oven and leave in the tin to cool for 15 minutes.
Dust with the icing sugar.
Serve warm or at room temperature.
If keeping for a couple of days, keep refrigerated.
Kali Orexi - Bon Appetit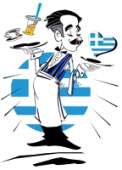 Have a look at these beautiful Dessert Bowls and Plates ideal for serving all these delicious Greek desserts!
Return from Fig Tart for more Greek Desserts