CHICKEN WITH PEAS
KOTOPOULA ME BIZELIA
Chicken with peas is a very simple, yet delicious method of cooking chicken with vegetables in the same pot, infusing the flavours together.
Vegetables
are used in abundance throughout the
Greek cuisine
and always only seasonal vegetables. The Greeks will still only use fruit and vegetables
in season
rather than using imported products out of season as they are never as tasty. This way their meals are rotated throughout the year as meals become popular at the times of the year that the particular ingredients are in season.
A very healthy approach to eating!
Chicken with peas is traditionally made using fresh peas, however you can use frozen peas for convenience, although it wont have quite the same fresh flavour. If using frozen, reduce the quantity to about 700 - 800g.
Ingredients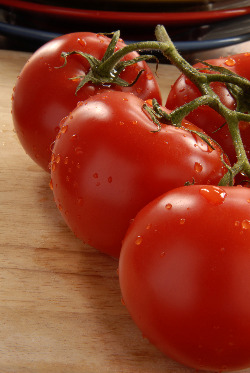 2 small chickens
1.2kg peas
1 - 2 medium onions
700g fresh tomatoes (or 640g tin of tomatoes)
1/2 teacup butter or vegetable oil
salt
freshly ground black pepper
water
Preparation
Clean the chickens inside and out and chop into 4 portions each chicken.
Salt and pepper the chickens.
Melt the butter in a large casserole saucepan.
Saute the chicken well.
Add the finely chopped onions and saute too.
If using fresh tomatoes which is ideal, chop or pulse through a blender, if using a tin of tomatoes, again chop them up before adding to the chicken.
Add 1 - 2 cups water.
Leave to simmer, covered, on fairly low heat for about 30 minutes.
Add the peas to the saucepan, cover and simmer until most of the liquid has been absorbed and the chicken is cooked (make sure it doesn't burn - if necessary add more water whilst cooking.)
At the end you will have a very moist, tender chicken with peas, coated with tomatoes and just the butter at the bottom of the saucepan.
Serve.
Note: Traditionally the Greeks add the giblets (finely chopped) to saute with the onions, for taste, that is for you to add or omit to your preference.
Kali Orexi - Bon Appetit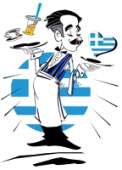 Return from Chicken with Peas for more Greek Chicken Recipes