OLIVE BREAD RECIPE
ELIOPSOMO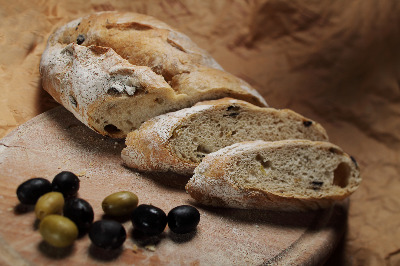 This Greek olive bread recipe is just teeming with the flavours of Greece and the Mediterranean, with the delicious rustic bread, oozing with plump, rich olives, herbs and red onions.
This bread is usually made with white flour, and with so many Greek recipes, enriched with a little olive oil.
There is nothing like the wonderful aroma of freshly cooked bread wafting from the kitchen to gather everyone around for a tasting. This Eliopsomo - Olive bread recipe has a lovely rich flavour, and the sight and smell of this bread tempts all the senses.
Eliopsomo literally means olive bread - Elio - olive, Psomo - bread.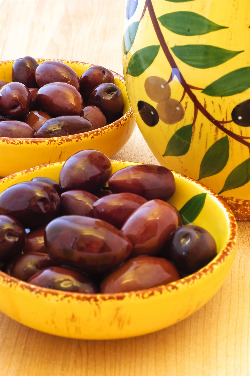 Serving Suggestions
You can serve this olive bread recipe instead of normal bread at a Greek meal.
Have as a light lunch with cheese and ham.
Toast it and drizzle extra virgin olive oil and a sprinkling of freshly ground salt and pepper.
Have it fresh or grilled with slices of fresh, juicy tomatoes and crumbled feta.
Cut thin slices and have with dips.
Include in a meze, with a selection of appetizers, ideal with a drink.
Use good quality, rich oily olives for this olive bread recipe, you will appreciate their flavour in the bread.
Try not to use canned ones, they will not taste as good.
For a variety, use olives marinated in herbs.
Ensure all the olives are pitted before using, you do not want any olive stones in the bread!
Ingredients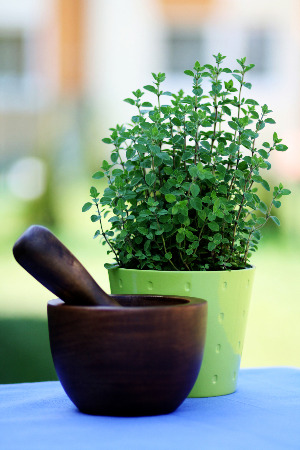 1 red onion, finely chopped
1-2 tablespoons olive oil, for frying
675g/1 1/2lb / 6 cups white bread flour
1 1/2 tsp salt
25g/1oz fresh yeast OR 2 teaspoons dried yeast
350ml / 12 fl oz /1v 1/2 cups lukewarm water
5 tbspn olive oil
175g / 6 oz/ 1 1/2 cups pitted black olives, roughly chopped
2 tbspn fresh coriander, marjoram or oregano, finely choppped
extra flour for dusting
Makes 2 small loaves or 1 large loaf
Preparation
Fry the onion in the olive oil until soft.
Remove from pan and put aside till later.
Sift the flour and salt into a large Mixing Bowl , and make a well in the centre.
If using dried yeast, add to the flour. OR
If using fresh yeast, blend it with half the water in a jug and then add to the flour.
Add the rest of the water and the olive oil.
Mix it all in until a soft dough, using a round bladed knife.
Turn out onto a lightly floured surface and knead for about 10 minutes until smooth.
Place in a clean, lightly oiled bowl, cover with cling film and leave to rise in a warm place until doubled in size (about 1 hour).
Grease 2 Baking Sheets.
Turn the dough onto a floured surface and knead a few times.
Roll the dough out into a large circle and sprinkle the olives, herbs and fried onion evenly over the dough.
Bring the sides up over to cover the filling and gently knead the bread until the filling is mixed through the dough.
Cut the dough in half and shape each half to an oval bread shape.
If you prefer to do rolls, just cut into many small round or elongated shapes, or alternatively 1 large loaf.
Place each loaf on a baking sheet.
Cover with lighly oiled cling film and leave in a warm place until doubled in size.
Place 2 or 3 diagonal cuts - about 1 inch / 2cm deep along the top of the bread to create a nice rustic appearance once cooked.
Dust the loaves lightly with the flour.
Preheat the oven to 220 oC / 425 oF / gas 7
Once the loaves have risen, place in a preheated oven.
Bake for 30 - 40 minutes or until the loaves are golden color and sound hollow when tapped on the bottom.
Transfer to a wire Cooling Rack and leave to cool.
If you wish to use this olive bread recipe to make rolls, you would reduce the cooking time to about 25 minutes. If you are making 1 large loaf, you would probably need an extra 10 minutes baking time.
Enjoy your olive bread recipe!
Kali Orexi - Bon Appetit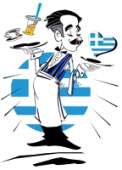 Using a Breadmaker
There are two options to make this olive bread recipe using a Breadmaker
.
You can make and bake the loaves in the breadmaker. This will save a lot of time.
Put the ingredients in and forget about it for about 3 hours and you will have a lovely home made bread.
The bread, though, will be shaped like the bread tin inside. If you are happy with this, in return for the little effort, this is a great way to do it.
If using this method, place all the ingredients in the bread pan, as per your machines instructions, omitting the olives, herbs and onions.
After approx 20 minutes (differs with every machine) the beeper will go off to indicate now is the time to add any flavourings. Add the olives, herbs and onions.
If your machine does not have the beeper option, just lid the lift and add the flavourings after 20 minutes, close the lid and leave to continue.
Leave until the wonderful aroma of freshly baked bread calls you to the kitchen!
Another way of using the breadmaker for the olive bread recipe is to use the dough setting. This will do away with the mixing, kneading and leaving to rise steps that we cover above.
Place all the ingredients in the breadmaker, except the olives, herbs and onions.
Turn the breadmaker on the dough setting.
Once it has finished, remove the dough and carry on from step 10 above where you roll the dough out and place the olives, etc on the dough.
The purpose of using this method is you spend less time on the mixing, kneading, rising, but by baking in your own oven, you get to shape the bread into 2 small loaves with a lovely crust.
Breadmakers
If you don't use a breadmaker, you should try one out. I can honestly say it is one of those kitchen appliances I love and use all the time.
I love freshly baked bread, but, like many families these days, I am too busy to make the bread completely by hand, all the time. (There are times I do this, mostly lazy weekends when the whole mixing, kneading work feels good).
The rest of the time, I fall back on my breadmaker, either to completely bake the bread, normally weekdays when time is very limited, or at weekends, I will use the dough option and bake in the oven.
This is the perfect solution to quality food and saving time. It does not affect the taste of the bread or how much it rises, but I have the pleasure of knowing exactly what is in my bread - no preservatives or chemicals, and the taste is so much better.
It's also much cheaper to make too, always a good thing.
There are many breadmakers on the market, do choose a reliable brand name. Make sure it will bake a fairly large size bread, you always have the option of using less ingredients to make a smaller loaf.
Bread Baskets
Check out this attractive, elegant bread basket that would look great on any table. With Greek meals there is always a basket with freshly cut bread, they are one of those items you always need, but sometimes the old wicker baskets can get tatty, your table will be enhanced with this beautiful basket!

Return from Olive Bread Recipe for more Greek Bread Recipes