GREEK BREAD RECIPE
This Greek bread recipe is a variation of a
Horiatiki Psomi
which is literally translated into Country Bread.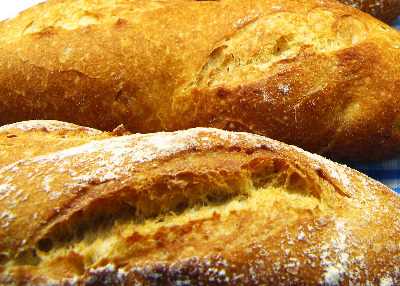 Every Greek meal is accompanied by slices of thick textured country bread, and this Greek bread recipe is an ideal bread to accompany most Greek recipes.
I have not been able to find the kind of bread flour used for Greek country bread outside of Greece (it is a type of yellow, grain flour), so after a lot of trial and error I have found the closest match to get the same taste and texture is to use white bread flour and ground semolina. The rest of the recipe is an authentic Greek bread recipe used at home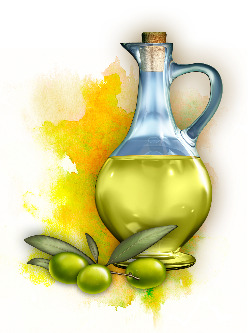 for many years.
This bread is ideal for dipping in salads and appetizer dips and the next day is wonderful in the grilled bread recipe with a drizzle of olive oil and some fetta and olives for a traditional Greek midday snack.


Ingredients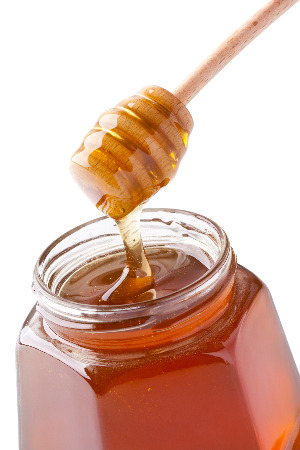 1/2 tablespoon dried yeast
225g ground semolina
425g white bread flour
1 teaspoon bread improver
1/2 tablespoon salt
1 1/4 cups lukewarm water
1 tablespoon olive oil
1 tablespoon honey
1 tablespoon milk
3/4 tablespoon sugar

Preparation
Sift the flour into a large Mixing Bowl .
Add the rest of the ingredients.
Mix it all in until a soft dough, using a round bladed knife.
Turn out onto a lightly floured surface and knead for about 10 minutes until smooth.
Place in a clean, lightly oiled bowl, cover with cling film and leave to rise in a warm place until doubled in size (about 1 hour).
Grease a Baking Sheet.
Turn the dough onto a floured surface and knead a few times.
Form the dough into an oval loaf shape.
Place 2 or 3 diagonal cuts - about 1 inch / 2cm deep along the top of the bread to create a nice rustic appearance once cooked.
Place the loaf on a baking sheet.
Cover with lighly oiled cling film and leave in a warm place until doubled in size.
Dust the loaf lightly with the flour.
Preheat the oven to 220 oC / 425 oF / gas 7
Once the dough has risen, place in a preheated oven.
Bake for 25-35 minutes or until the bread is golden color and sounds hollow when tapped on the bottom.
Transfer to a wire Cooling Rack and leave to cool.
This Greek country bread is a textured, heavy bread.
Kali Orexi - Bon Appetit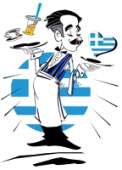 Using a Breadmaker
There are two options to use this recipe using a Breadmaker
.
You can make and bake the loaves in the breadmaker. This will save a lot of time. Put the ingredients in, set the program and leave until the wonderful aroma of freshly baked bread calls you to the kitchen!
The bread will come out shaped like the bread tin inside but a small sacrifice in return for the little effort, and a wonderful result.
Another way of using the breadmaker is to use the dough setting. This will do away with the mixing, kneading and leaving to rise steps that we cover above.
Place all the ingredients in the breadmaker, and program it to the dough setting. Once it has finished, remove the dough and take up from step 6 above.
The benefit of using this method is you spend less time on the mixing, kneading, rising, but by baking in your own oven, you get a lovely rustic shape bread with plenty of crust.
Breadmakers
If you don't use a breadmaker, you should try one out. I can honestly say it is one of those kitchen appliances I love and use all the time.
I love freshly baked bread, but, like many families these days, I am too busy to make the bread completely by hand, all the time. (There are times I do this, mostly lazy weekends when the whole mixing, kneading work feels good). The rest of the time, I fall back on my breadmaker, either to completely bake the bread, normally weekdays when time is very limited, or I will do the dough option and bake in my oven, I will make it this way at weekends.
This is the perfect solution to quality food and saving time. It does not affect the taste of the bread or how much it rises, but I have the pleasure of knowing exactly what is in my bread - no preservatives or chemicals, and the taste is so much better. It's also much cheaper to make too, always a good thing.
There are many breadmakers on the market, do choose a reliable brand name. Make sure it will bake a fairly large size bread, you always have the option of using less ingredients to make a smaller loaf.
Bread Baskets
Check out this attractive, elegant bread basket that would look great on any table. With Greek meals there is always a basket with freshly cut bread, they are one of those items you always need, but sometimes the old wicker baskets can get tatty, your table will be enhanced with this beautiful basket!



Return from Greek Bread Recipe to Greek Bread