GREEK SOUP RECIPES - SOUPA
Traditionally Greeks don't have the three course meal style of eating, with soup as a starter, followed by a main meal and a dessert.
They would sometimes have it as a side dish, such as with Kakavia - fish soup, where they take the fish and vegetables out to eat whole and have the soup on the side.
Generally, they would make a soup to be more of a meal in itself, filling and satisfying, often with pasta, rice or legumes in it to create a more robust meal.
Greeks will often have soups for a light lunch, and the Greek Avgolemono is a favourite among young and old, a light, tangy, creamy meal, using (most often) a chicken stock, and blending beaten eggs and lemon into the sauce at the end to create a delicious light meal.
Kali Orexi - Bon Appetit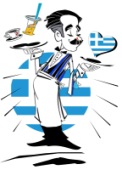 Click here to see some of our delicious easy soup recipes.