SEAFOOD AND FISH
THALASSINA KAI PSARIA
Greek seafood recipes use just good quality seafood, along with a few fresh ingredients, such as salt and pepper, garlic, oregano, olive oil and lemons to flavour the fish.
With Greek cuisine, the emphasis is on improving the flavour of the dish, instead of overpowering it with heavy herbs and spices. At all times, the succulent flavor of the fish should shine through.
The seafood caught in the Mediterranean sea are the tastiest fish you will find anywhere in the world.
Considering the geography of Greece, you are never far from the coast, whether on an island or the mainland. Until recent years fish have always been in abundant supply, so even when there was no meat to be had, Greeks could always rely on fish for meals.
The fishing industry in Greece is one of the oldest trades and is still flourishing today.
Visit a Greek fish market to buy some of the local day's catch and cook up a fresh fish dish.
Although seafood is sold at Taverna's, in Greece they have special Fish Tavernas called Psarotaverna, which specialises in Fish meals. When visiting, you will often be taken back to the kitchen to choose your meal from the catch of the day.
Kali Orexi - Bon Appetit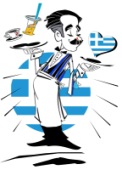 Click here to see some of our healthy fish recipes and to read more about Greek Seafood.