MELOMAKARONA
Melomakarona is a mouth watering, golden cookie, drenched in a honey syrup and often sprinkled with crushed walnuts.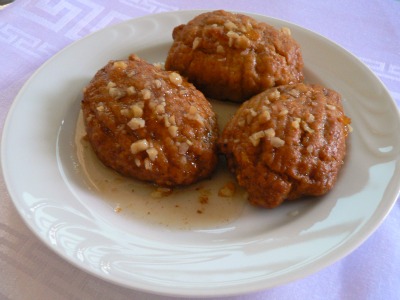 Greeks love their sweets all year round, and have special sweets that they traditionally make at certain times of the year or for special celebrations. Its no surprise then, that at Christmas they make one of their most delicious cookies.
I will always make up a large batch of them, but it doesn't matter how many I make, they always go too soon!
This honey cookie recipe uses oil instead of butter or margarine, making it slightly healthier than the recipes using butter.
As with many of the Greek dessert recipes, the quantities are to make a large amount, so do adjust the recipe for less if necessary. This melomakarona recipe makes approx 60 cookies.
Ingredients
4 tea cups mild olive oil
1 tea cup orange juice
1 tea cup brandy
1 tea cup sugar
2 teaspoons soda
1 teaspoon baking powder
orange peel
1-1 1/2 kg plain flour,
walnuts, broken into small pieces
cloves
SYRUP
1 1/2 tea cups honey
1 1/2 tea cups sugar
1 1/2 - 2 tea cups water
1/4 - 1/2 orange, cut up
1 cinnamon stick
Preparation
In a large mixing bowl add 3 cups of oil, room temperature and 1 cup of oil, warmed up.
Add 1/2 of the 1 cup of orange juice, then with the other 1/2, add the baking soda to the juice, stir it in, it will foam up rather quickly and then add this to the oil.
Add the brandy.
Using an electric mixer, beat the liquids for about 15 minutes.
It is important to mix it for this long, although it doesn't look like much is happening to the oil mixture, persevere, it has a big influence on the flavour of the finished cookie.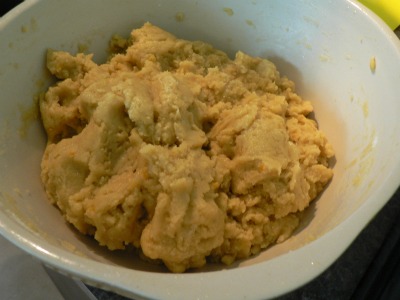 Now add the sugar, about 1kg flour and baking powder and grated orange peel.
Using your hands, mix it all in.
You will most likely need to add more flour if it is too runny. I almost always need to add more, between 250g and 500g more depending on how soft it is, the dough needs to be fairly firm. It will need to be firm enough to be able to hold a shape, if it's too runny it will flatten out whilst cooking.
With your hands, take small pieces of dough and roll into an egg shape. Take a small piece of walnut and place in the centre of the dough shape.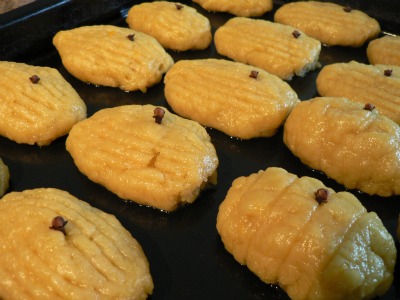 Blend the dough around the walnut and form into an oval shape.
Place on a baking tray, there is no need to oil the tray, the oil in the melomakarona is sufficient to prevent sticking.
Flatten the cookies slightly and add a pattern. In Greece, they often use a fork across the top to create lines.
Insert a clove slightly into the top of each cookie.
Bake in a pre heated moderate oven for 20 - 30 minutes.
Check - when they are a golden colour they are ready.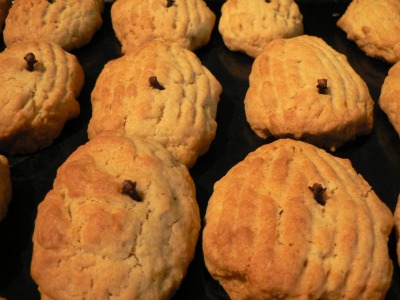 Place on a wire rack to cool.
Whilst the melomakarona are cooling, prepare the syrup.
Put all the syrup ingredients in a saucepan and bring to the boil.
Simmer for about 5 minutes, the syrup will thicken, so be very careful not to let it boil over.
When the biscuits are cold, place them in a deep tray.
Remove the cinnamon stick and orange from the syrup and then pour the hot syrup over the cookies.
Finely chop some walnuts and mix with some sugar and a little cinnamon.
Sprinkle this mixture over the syrupy biscuits.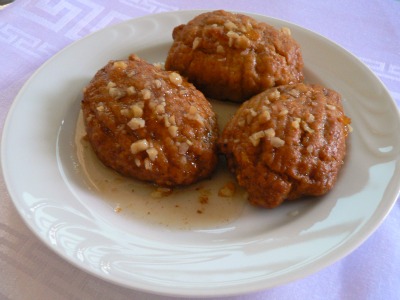 Kali Orexi - Bon Appetit



Return from Melomakarona to Greek Desserts Recipes