Grilled Bread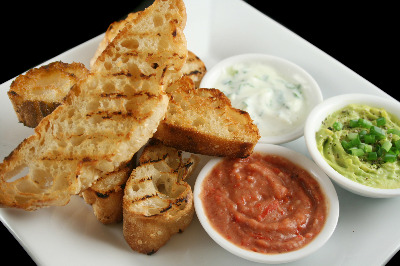 Grilled Bread is an ideal snack at any time of the day.
It tastes great and grilling it gives it a better texture and makes it more filling. It is wonderful as a light lunch or pre dinner appetizer to go with drinks. A pleasant change from plain bread, you can serve along with a variety of other appetizers such as dips.
Another popular way of having grilled bread is with extra virgin olive oil and seasoning, still as popular in Greece today as it was centuries ago.

Slice good quality Greek bread, (or any bread which is a heavy, solid bread rather than a light fluffy bread).
Put on grill (charcoal or gas), until they brown.
Sprinkle a good amount of extra virgin olive oil, salt and pepper and a bit of oregano over the bread.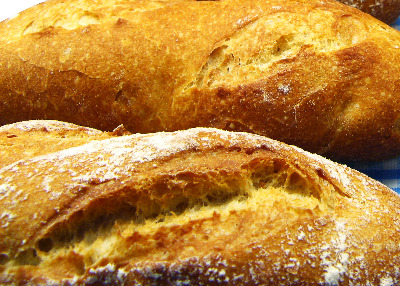 Serve hot with Greek salad, dips and fried appetizers such as fried zucchini.
Why not try making your own bread, with these fantastic Bread Makers, it's so quick and easy! There's nothing like waking up to the aroma of freshly baked bread.
Kali Orexi - Bon Appetit
Spanakopita - Spinach and Feta Cheese Pie
Kolokithopita - Pumpkin Pie
Tiropita - Cheese Pie
Dolmades
Tzatziki - Yogurt and Cucumber Dip
Hummus
Taramosalata
Eggplant Salad - Melitzanosalata
Fried Zucchini, Eggplant, Mushrooms
Skorthalia - Garlic Sauce Dip
Piroski
Cheese and Ham Cake
Cheese Pies Without Pastry
Quick Cheese Pies



Visit some of my more popular pages...
Cooking gadgets, appliances, knives, pans, serving dishes and much more to help prepare and cook this recipe easier and quicker.
Our reviews of the best Greek Food Recipe Books
We have a good selection of Greek Movies, funny, serious, classical, mythological and musical!
Return from Grilled Bread to Appetizers