RIZOGALO
GREEK RICE PUDDING RECIPE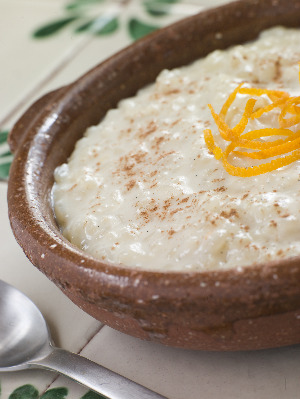 This Greek rice pudding recipe is a popular dessert with both old and young.
It can be eaten either hot or cold. You will often find it on the menu for breakfast at Greek cafe's.
Greek rice pudding is different in that the rice is always cooked in water first and then the milk is added. This creates a delicious thick and creamy pudding.


Ingredients
100g short grain or pudding rice
200 ml hot water
450ml full cream milk
75g sugar
1 teaspoon vanilla essence
1 1/2 teaspoons cornflour
1 egg yolk, lightly beaten
ground cinnamon


Preparation
Boil the rice in a saucepan with the water, stirring occasionally, until most of the water has been absorbed.
Put the cornflour in a small bowl, add 4 tablespoons of the milk and mix to a paste.
Put aside for later.
Add the rest of the milk to the rice in the saucepan and mix well.
Simmer gently, uncovered for about 25 minutes.
Be careful not to let it boil over.
Add the sugar, vanilla essence and cornflour mixture and stir through.
Cook for another 5 minutes.
Remove the pan from the heat and let it cool slightly.
Add the beaten egg yolk and stir through until well mixed in.
Return the pan to a gentle heat and stir through for only 1 minute.
Transfer the rice to serving bowls.
Sprinkle with cinnamon.
Serve warm or let it cool, refrigerate and serve chilled.
Kali Orexi - Bon Appetit
Return from Greek Rice Pudding Recipe to Greek Desserts