COLE SLAW - CABBAGE SALAD
LAHANO SALATA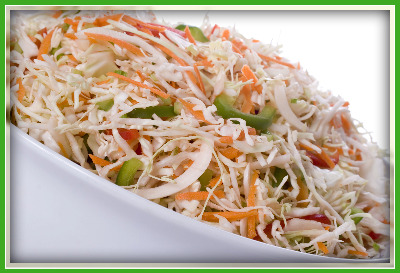 This cole slaw recipe is a popular, easy to make salad, which is made with a healthy cole slaw dressing recipe.
Unlike the mayonnaise dressing that is mostly used for this salad in all western countries, in Greece this recipe is made using the popular Greek salad dressing of extra virgin olive oil and freshly squeezed lemon juice.
This helps to add new interest to an old salad as well as packing it full of vitamin C and all the healthy nutrients found in extra virgin olive oil.
As cabbage is a winter vegetable, it makes coleslaw an ideal salad to make in winter when many other salad vegetables are either not around or rather tasteless.
Ingredients
1/2 cabbage
1-2 carrots
olive oil - extra virgin
lemon juice
salt and pepper
Optional
a few drops of balsamic vinegar
Preparation
Thinly slice cabbage. Grate carrots and add to salad bowl along with salt and pepper.
In a cup add approx 3 tablespoons olive oil to 1 1/2 tablespoons lemon juice.
Whisk it together with a fork for 30 seconds until it becomes opaque. If it doesn't become opaque add a little more oil. This of course can be varied according to your like of lemon in your salad. This may be enough quantity or you can make up a bigger batch of oil and lemon according the size of serving.
Pour the dressing over, and toss salad and mix all in well together.
Another option is to add a few drops of balsamic vinegar to the salad, after you have added the lemon-oil dressing.
This adds a delightful flavour to the salad, but be careful not to put too much - it really is just two or three drops.
Kali Orexi - Bon Appetit
Return from Cole Slaw Salad for another Greek Salad Recipe